We're less than two months away from Day 1 of the Sonic Temple Art & Music Festival and the days couldn't be passing by any faster. We're going to be spending the next couple months going through all of the bands playing what was previously known as Rock On The Range, from the top of the bill to the bottom. We'll go through each day from beginning to end to help you plan your personal festival schedule!

We're all anticipating that moment when the gates open for the inaugural Sonic Temple Arts & Music Festival on May 17. Here's the first three bands who will be taking the stage at MAPFRE Stadium.

The Jacks
Hailing from Southern California, The Jacks have that late 60's to early 70's feel that resembles a combination Mott The Hoople, Sweet and The Black Keys. Their songs have good vibes written from beginning to end, despite not having released an EP or full album yet.

Currently, they have five songs to listen to on Spotify, which the band references a March 2018 release for their first EP. However, according to a January 2019 article on Allacess.com, The Jacks signed a record deal with Edgeout Records, which is distributed by Universal Music Group, so we may have a new album in the works to be released around the time of Sonic Temple.

That being said, The Jacks have absolutely taken massive steps to get to the bill for Sonic Temple. They recently played shows for audiences at Super Bowl LIII Week in Atlanta on January 28 and the NHL Winter Classic at Notre Dame Stadium on New Year's Day. With a couple high profile gigs and a potential new album in the works could make for a breakout performance for the rock and metal fans who turn out early on Friday.

The Jacks, who almost have 12,000 monthly listeners on Spotify, are making their first performance at the festival. The band consists of Jonny Stanback (Vocals/Rhythm Guitar), Tom Hunter (Lead Guitar), Scott Stone (Bass Guitar), and Josh Roossin (Drums/Percussion). Give them a listen on Spotify below!

Demob Happy
When you hear the first couple seconds of Demob Happy's new single, "Less Is More," you'll see why they'll be at Sonic Temple. Loud guitars meet the ears as soon as the song starts and it reminds me of Black Sabbath meets Queens of the Stone Age. I'm not sure if that'll make sense, but they give me that old metal feels with an unsettling undertone, especially in "Liar In Your Head," the first track of their 2018 album, Holy Doom. They're classified as Alternative Psychedelic, but it actually makes for an interesting combination that Rangers will be able to dig early on the first day of the festival following (or during) The Jacks.

Demob Happy comes to Sonic Temple with festival experience under their belt after earning slots at European festivals, which included the infamous Reading and Leeds Festivals in 2015. They went on to perform again at Reading and Leeds in 2016 and 2018. However, Sonic Temple will be their first festival outside of Europe. Outside of the festival scene, they've been extensively playing shows at small theaters and clubs in the UK, Europe and the United States constantly since March 2018.

Demob Happy has a lot of potential to wow fans at Sonic Temple as they already have a strong following in the UK. The band, which has over 610,000 monthly listeners on Spotify, is originally from Newcastle, England, but they made their mark on the scene after they moved to Brighton in 2011. Demob Happy consists of lead singer/bassist Matt Marcantonio, drummer Tom Armstrong and guitarist Adam Godfrey. If you seem skeptical Listen to their 2018 album, Holy Doom, below!

Pretty Vicious
The Welsh band, Pretty Vicious, is another British band taking the stage at Sonic Temple this year, and it's been a long time coming. They first hit the scene in 2014, but the band really started to flourish in 2015 after earning slots at major festivals including the Reading, Leeds, and Isle of Wight Festivals in the UK, and Summer Sonic in Tokyo. Pretty good for their first year of existence, right? They also performed at the Reading and Leeds Festivals in 2018.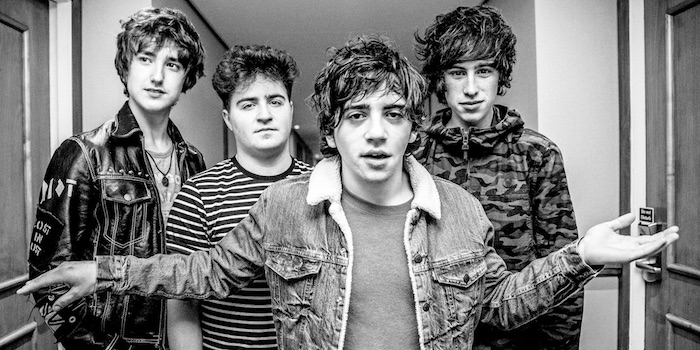 When you listen to their EP, Cave Song, you'll hear the British Invasion influence, especially The Beatles, but you can pull out modern influences from bands like Cage The Elephant and Foster The People. This is probably why they have almost 142,000 monthly listeners on Spotify They definitely go along with Danny Wimmer's new vision to have a variety of rock bands performing at his festivals, but Pretty Vicious is the third "alt" band on the bill already for the first day. This means if your music taste leans closer to metal, hardcore, and death metal, then the first day will be the perfect day to tailgate longer than the weekend portion of the festival.

Pretty Vicious is not only making their North American debut at DWP's Welcome To Rockville, but they're also touring the States starting in April, which includes a performance at DWP's Epicenter Festival and ends with their performance at Sonic Temple. The band consists of lead singer Brad Griffiths, drummer Elliot Jones, bassist Jarvis Morgan, and guitarist Tom McCarthy. Give their latest single, "These Four Walls," below!

Stay tuned to our Facebook page for our next part of our Sonic Temple Preview series as we will be covering SHVPES, Hands Like Houses and H09909.